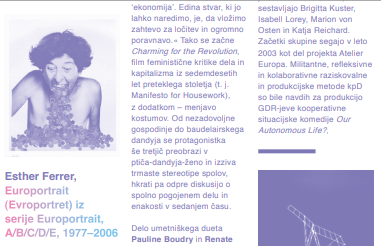 Grand Domestic Revolution (GDR) is a long-term "living research" project developed by CasCo– Office for Art, Design and Theory in Utrecht, the Netherlands, since October 2009 and curated by Binna Choi in collaboration with Maiko Tanaka and with support work by Yolande van der Heide. GDR GOES ON refers to a special traveling form of this project that aims to find lines of affinity with other local contexts and initiatives and to further actualize the project's endeavours.
Inspired by late nineteenth-century American "material feminist" movements that experimented with communal solutions to isolated domestic life and work, GDR has involved artists, designers, domestic workers, architects, gardeners, activists, and others in collaborative investigations and re-articulations of the domestic sphere, challenging traditional and contemporary divisions between private and public. The aim was to imagine new forms of living and working in common and putting them into practice. GDR shares its ongoing research with presentations of newly produced and referential art works, an exhibition as a platform for a series of public activities and/or the growing project library. In particular, the touring program of GDR – GDR GOES ON! – was conceived as a special form of international collaboration, embedding it within the local context of each host venue and creating closer ties between the organization and surrounding communities.
GDR in the context of the City of Women festival presented a selection of artworks and archival materials that brought different perspectives and sensitivities to work and labor performed "at home" under the post-Fordist conditions of our everyday life. The works do not only provide insights into the current and past struggles concerning the notion of invisible work and precarious labor but also evoke the possibilities of organization, solidarity, and composition. Here, critical seeing experience sentera practice of transformation that we believe is only possible throught he formation of a type of collective subject.
(Binna Choi, Maiko Tanaka)